Bring home a PLASMA television and watch your favourite channels and movies with ease. To make your viewing experience an improved one and to make you feel like you are in a movie theatre, Samsung brings to you is here with a stylish Samsung 43H4100 Plasma Television with a sleek look and latest technology. It will take your television viewing experience to new heights and will surprise you with its awe-inspiring features and high-end performance.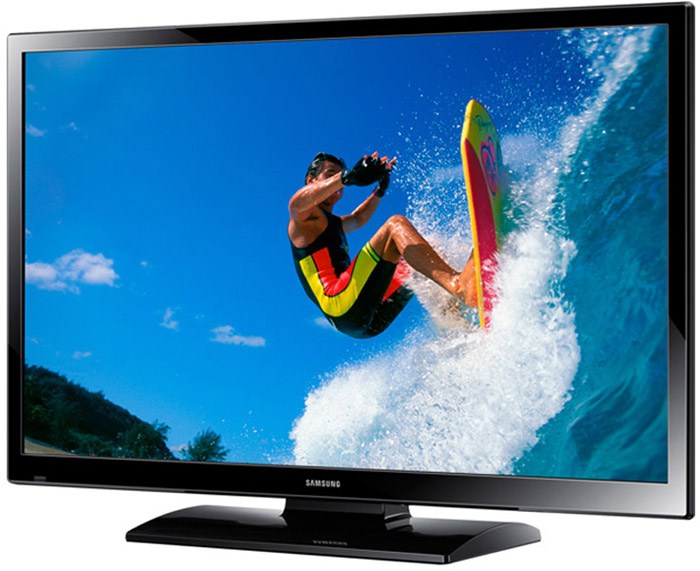 Display Screen
This Samsung PLASMA TV has a sleek and sturdy design that will complement the decor of any modern living room. The sleek and compact design makes it easy to mount. You can now access and enjoy the stunning quality of picture on the 129.54 cm PLASMA display of this Samsung 43H4100 Plasma Television in astonishing Full PLASMA. The images are crisper and sharper, that will maximize your enjoyment. It will provide the perfect set up for your house. The television is black in colour that will work well with all shades of backgrounds. At the same time, the colour display and contrast also gets enhanced to offer the most vivid pictures.
Plasma
The video quality offered is in full Plasma and the resolution offered is 1920 x 1080 pixels. You are sure to enjoy unmatched clarity with the full Plasma display in true colours. The Aspect Ratio is 16:9. This Samsung 43H4100 Plasma Televisionoffers a resolution that is substantially higher than that the ones are that are standard definition television.
Super Slim Panel
This slim and lightweight TV can be mounted on any wall or can be fixed on the stand totally adjusting with your viewing comfort.
Power Consumption
The television requires a power supply of 100-240 V. This set, however, consumes very little power and is extremely energy-efficient and eco-friendly. The TV consumes 170 W of powers when in use and 0.3 W of power when on standby.
Connectivity Ports and other features
This Samsung 43H4100 Plasma Television has two HDMI port, it enables you to connect your external storage devices to the TV and allows you to play your favourite content easily. Now, you can also connect your pen drives or other USB drives directly into this TV as it has a USB port. It also had audio, analogue and headphones output. It also features plug-and-play option, you simply need to connect your external device and you can play your movies, video tracks, audios and images on this wide screen. With VGA connectivity, you can turn this TV into a PC as well.